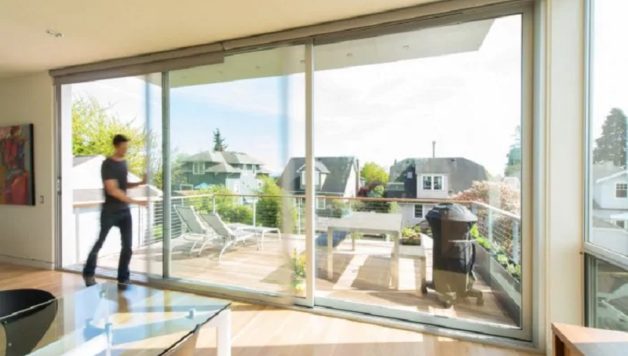 4 Advantages of Big Glass Doors and Windows for Business Centres
Published On May 2, 2019 |
Featured
Great attention is always given to the different components that make up commercial structures. This is why gorgeous interior designs are all the rage for business centres.
What you will notice, however, is that in popular interior styles for offices and shops, designers and builders typically opt to integrate big sliding or bi-fold glass doors and windows. Anybody who is interested in architecture and design knows that these implements are considered advantageous for the following reasons:
1. Provide a nice view of the outdoors and the changing seasons
This is an inspirational element that a lot of companies want to be present in their workplace. When employees see the beauty of the outdoors from where they work, not only does it open their minds, it also inspires them.
Also, when they see the changing seasons from their workplace, natural body signals are activated. These signals prompt an adjustment in routines, behaviours, and moods.
For example, seeing the transition from winter to spring actually boosts employees' productivity and this builds up to the highest level at the turnover of spring to summer.
It will be hard to harness such benefits in offices and shops that do not provide a lovely view of the outside world.
2. Allow natural illumination and ventilation in
Big energy savings have become one of the important long-term goals of commercial organisations and having big glass sliding windows can have a huge contribution. On great weather days, you can turn off the HVAC system and just rely on the light and the cool breeze that's coming in.
This can translate into reduced monthly bills during the spring and on pleasant summer days.
It is worth noting, too, that the allowance of natural light into the office is highly beneficial to the health of employees. It can regulate their body clock and make them feel less sleepy during work hours, which can help them sleep better at night time. Everyone knows good quality sleep is crucial in ensuring good work output so again, this works to benefit businesses.
3. Create an elegant workspace
There has always been something quite elegant with glass. Therefore, integrating more of it into the construction and design of a building can make the workplace quite classy.
French windows and doors, for example, look quite chic. Meanwhile, casement windows possess this country charm that makes buildings seem homey or cosy. Really large versions of such windows create a modern and sophisticated vibe.
Therefore, if you want your office or store to look effortlessly stylish, you simply cannot go wrong with the decision to work in massive glass windows and doors.
4. Evokes a feeling of openness
If you have mostly glass doors and windows, rooms automatically feel deceptively large. The illusion of an open space has an impact on people's comfort and creativity. Likewise, it has the ability to improve employee engagement and satisfaction in the workplace.
Not only those, a seemingly open environment also encourages collaboration. When you use easy-to-open glass partitions such as horizontal sliding windows or doors instead of concrete dividers, you allow workers to easily see each other. Therefore, if one person needs another for something, it would be easier and faster to initiate an interaction.
It is worth noting, too, that for bosses, the openness glass doors and windows create allows for a more effective monitoring of productivity within the office. If you are the head of operations, spotting slackers and loiterers will be a breeze. You can enforce a smarter, collaborative and more efficient work culture this way.
And lastly, surveys reveal that young workers (millennial employees in particular) thrive better in workspaces that feel open. They say they do not only like the look, but they also enjoy the more casual feeling of such an environment.
Integrate these design features into your business
These are the main advantages of opting for big glass doors and windows for workspaces.
Some people add that there are other unique functionalities companies can derive from these building integrations. Glass doors and windows offer limitless decorating potential and serve as "fancier" substitutes for chalkboards and whiteboards for brainstorming and note-taking.
Most of all, they enhance the workspace and help make people comfortably efficient and productive.
AUTHOR BIO
Carmen Velilla is an experienced Brand Manager currently overseeing the strategic development of multiple brands as part of the Epwin Group. She is an Associate Member of the Chartered Institute of Marketing (ACIM), specializing in Corporate Communication and Digital Marketing.