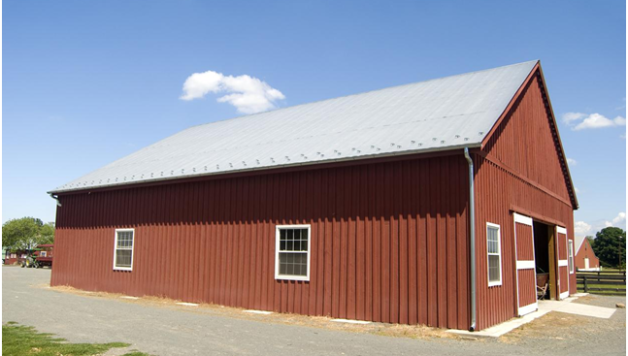 Exploring Colorbond Sheds
When it comes to buying a new garden shed there is a massive range to choose from in terms of sizes, structure types, features and of course materials. The world is slowly moving away from the traditional wooden shed and, whilst they are still popular, metal sheds are growing in popularity especially here in Australia. One specific type of metal shed which has become particularly popular are Colorbond sheds. These sheds can be seen all over Australia and are used for a wide variety of purposes. Today we are going to take a look into exactly what Colorbond is, why it is so popular and the number of uses that Colorbond sheds can have.
What is Colorbond?
Colorbond is a pre-painted, coated corrugated steel cladding material which was developed specifically to remove the need for constant painting of corrugated steel. As well as to create a steel that maintained a great condition and eliminated the risk of corrosion after being exposed to abnormal weather conditions. This material is typically bought in the form of corrugated sheet metal and there is a wide range of colours that buyers can choose from.
What Benefits Does Colorbond Offer?
Colorbond is very easy to work with and when compared with other metal options for sheds and roofs, it is also extremely cost efficient. The advantages don't stop there however, as this is also a thermally efficient metal which is incredibly durable in a host of different weather extremes. Colorbond sheds also require minimal maintenance which saves both money and time, and its strength offers great structural integrity.
Why in Australia?
When it comes to sheds Melbourne for example, has an ever-changing climate throughout the year. While in the summer it can get extremely hot, there are also frequent and heavy downpours which the sheds need to be able to handle. Colorbond however is tested in all of these conditions which makes it extremely durable to deal with drastic changes in weather as well as high heat or cold. This is largely the reason as to why so many in Australia opt for this shed type. Another key reason is animals, metal sheds provide much less chance for critters to get into the shed unit compared to other materials & Colorbond's extra durability helps to maintain this.
Effective Uses of Colorbond Sheds
In reality, Colorbond sheds can be used for just about any shed type, and the benefits of the material really lends itself to a range of effective shed options. For instance, you can easily use a Colorbond shed as a security shed for storing highly valuable items as it is almost impenetrable given it's strong and sturdy nature. Alternatively, it can be used as more of a simple garden shed. In some cases, Colorbond is even being utilised by commercial businesses to house large machinery and equipment.
If you are looking for a high quality, colourful and structurally sound shed which offers protection from the elements and maximum security, then a Colorbond shed is the perfect fit. Get yours today.