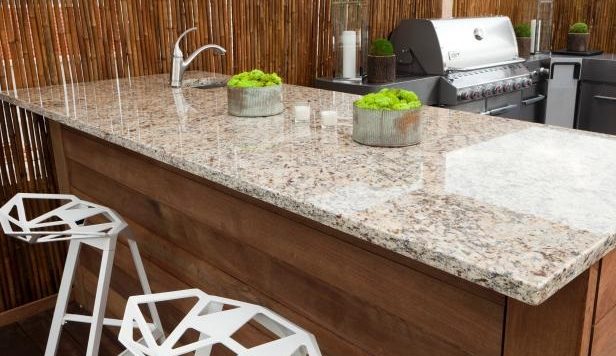 Granite Kitchen Countertops – The Most Famous Colors And Maintenance Tips
Granite kitchen countertops are known for their beautiful texture, colors, and durability. They are strong and last longer when maintained properly. And the guide below will take you through the most relevant ways of maintaining granite kitchen countertops and also what colors are trending the most.
Unique Features Of Granite Kitchen Countertops
Granite kitchen countertops have a lot of diversity. And thus, they have multiple features that you must know about if planning to install them in your house.
Granite Kitchen countertops by

Everest Granite

are polished, honed, and leathered. Polished ones are quite vibrant, colorful, and glossy. Honed ones are smooth, yet they have a porous texture. And leathered are optimally glossy, colorful, and neat. Thus, choose according to what you like the most

These kitchen countertops are practically scratch proof to a great extent because granite is very strong. However, the granite can be cut in thin as well as thick slabs. The thicker ones cost more than the thinner ones. Therefore, you will find always be able to find a granite slab within your budget

The edges of granite can be cut with machines as well as with hands. And the cutting and shaping process makes a great impact on the shape, price, and overall feel of the kitchen countertop once granite slabs are installed

You can also choose granite tiles instead of slabs to save more money. The tiles are strong too and can be cleaned very easily with warm water
The Most Famous Granite Colors That Are Trending In The Market
Now that you know how granite countertops can transform the look of your house, you might want to know what are the best colors to choose from. Thus, scroll through the list of colors that look breathtaking with all houses – big and small.
Aspen white

Colonial white

Moon white

Black Forest

Chocolate Brown

Violet-Blue

Kashmiri Gold

Safari Brown
Tips On How To Maintain Granite Kitchen Countertops
If you want your valued granite countertops to not lose shine and last longer, invest in maintaining them with the help of the tips given below.
Do not use the granite surface like a chopping board that many women do

Avoid oil staining. And clean with hot water immediately if stained with oil

Mop them with a clean moist cloth daily to ensure that their shine stays intact

Do not expose the surface to spices with artificial chemical dyes since it can leave marks