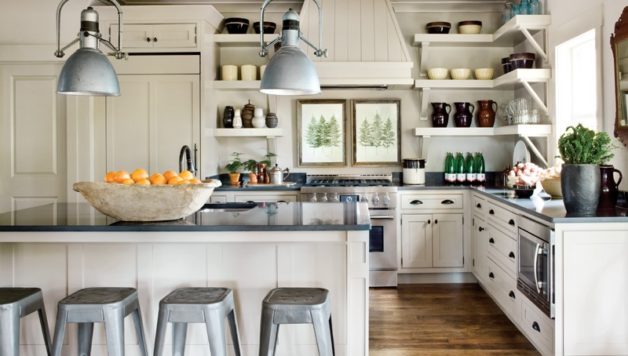 Organize your kitchen: 3 tips to tidy up your kitchen intelligently
Organizing your kitchen is optimizing space and making it functional. Take a look at our tips for improving ergonomics in an equipped kitchen.
Running bags lying on the worktop, children's school bags open on the table, a forgotten book, a cup that was not put back in his closet in the kitchen, the family has this annoying tendency of everything to abandon in the kitchen. How to keep this central piece of the house orderly? With a good organization, of course!
#1: Organize your cooking in "activity zones"
To organize your kitchen, you must separate 3 areas or "triangles" of activities, regardless of the size and configuration of the room:
A crockery area:

with sink, dishwasher and cupboards with cups and plates.

A cooking zone:

including the stove, the oven and the cupboards of utensils and dishes dedicated to cooking.

A reserve zone:

gathering the fridge and the storage of the products.
This organization allows the whole family to instinctively know the location of each object. In addition, it creates a routine when preparing food to gain ergonomics.
#2: Prioritize locations
Following the logic of the previous point, it is appropriate to intelligently store things in the kitchen. Also, the tools and household appliances that are used less often will be stored in high cabinets or behind the electro of everyday life. On the other hand, the pots and pans for the oven that are used every day must remain accessible. No need to go out when you prepare to eat, you know at the fingertips the place of each object.
Whenever possible, keep the worktop of your kitchen free. It will be easier to clean and store. Even if your favorite home decor magazine has pretty pictures of designer items and exposed glass jars, you'll want storage in the cabinets.
#3: Organize storage
For food, dishes, equipment and household products, organize your kitchen also through smart storage. You may check out Living.ca kitchen organizers for more ideas. Opt for closets that optimize space and facilitate travel, for a meal preparation while ergonomics:
spice turnstile and condiments for the corner of a worktop

large sliding cabinet next to the cooking zone

sliding drawer under the sink to store dishes, sponges, towels, etc.

boxes or lockers integrated under the work plan

storage solutions to hang inside the doors of your cabinets
The basis of a good kitchen organization is its layout. Trust your kitchen designer for a smart, equipped kitchen.