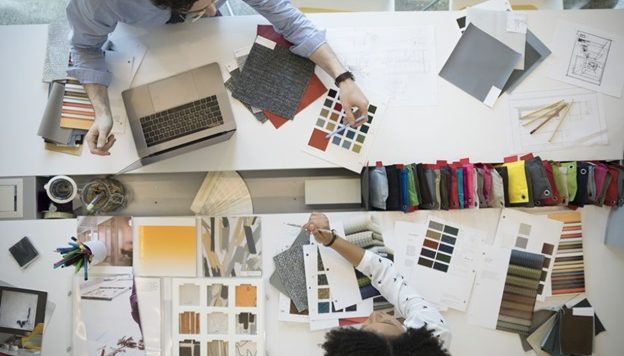 Understand the different types of paint sheens
When you're redecorating your old home or creating an interior design for the first time, you're probably wondering what type of paint finish to use. There are more options and you need to know about them before you make the final choice.
Choosing one of the many types of paint sheens is not easy because it takes a professional to know all the details. This is why lots of those who are decorating by themselves are deciding to choose professional help because the issues are simply too complex and confusing.
In this article, we're going to tell you more about the types of sheen and what the best one to use is. Remember that it's all a personal preference and there's no right and wrong in choosing the finish, just like the color of the paint. That's why you should take everything with a dose of reserve and do what you think it's best. Follow up to learn more about the subject!
What kinds of finishes are there?
There are 7 main types: Flat, Matte, Eggshell, Pearl, Satin, Semi-Gloss, and High Gloss. They all have their different look when they are added to the paint job.
The Flat is usually used for the ceiling. It doesn't reflect light and there's no sheen added. This is the one that will look great but is the hardest to be cleaned.
The Matte is almost the same as the flat with the difference that it is not as non-reflective as this one. It is used to provide a more in-depth color feeling and give the entire place a more luxurious style.
The next level toward complete reflection is the Eggshell finish. This one is not completely light adductive, but it's not reflecting it either.
The Pearl is a medium shine paint that is easier to be maintained than the previous ones we talked about. Still, it's one of those finishes that provide the benefits of easy maintenance but keeps the shine to the minimum.
The Satin is great for those areas in the house where you need to highlight something. Think windows, doors, and similar items that require to be made distinct from the rest of the area.
Semi-gloss is a shiny finish but there's still room for more gloss. This one's easy to be maintained but it still has a level of brightness that's not as high as the final one.
The final one is the High Gloss which is the easiest among all to be cleaned and is perfect for kids. People usually use it for those walls where kids play or for other surfaces that it looks good on. See more about them on this link.
How to make your choice?
Very often people can't see the difference between some of them. When you see the option on a small sample square, you often can't find any difference or it is so small that you don't understand what everyone is talking about.
Still, when you add it to a room that's much bigger than the sample square, you immediately see what everyone's stressing over.
Those who have a hard time deciding what the best option for them is, it's best to hire a person who understands the matter perfectly. You need a professional interior designer who is capable to handle issues much better than anyone who has never dealt with something like this.
Not just they will understand the difference and will try to explain them to you in detail, but they'll give you the best advice to reach the desire for how your interior should look like. Hiring the pros is always the best idea, although, their services are not the most affordable ones on the market. See more about this profession here: https://www.nysid.edu/academics/what-is-interior-design.
Conclusion
There's no best type of paint sheen. It all depends on what you need and what you find the most suitable option for your needs. Before you pick the one, you have to ask yourself two questions: Do you need often maintenance of the surface, and do you like the shine or not?
If you make a choice based on these two, be sure that you'll have no problem in reaching the final decision.