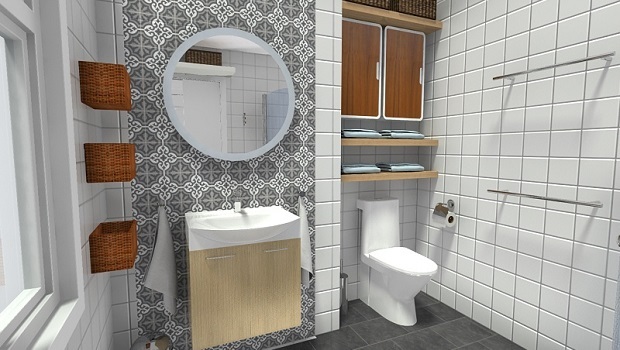 10 Small Bathroom Storage Ideas
A bathroom needs to have plenty of storage which most bathrooms do not have. It should be the cleanest and tidiest part of the house. This clearly means no clutter on the countertop, no electronics scattered, or towels left on the floor. It should fit in all the bathroom essentials tidily, and you must have them at the tips of your finger. Nowadays more and more people are coming up with different ideas as to how one can increase the storage of the bathroom. In this article, we'll discuss some very easy and efficient bathroom storage ideas. And to get bathroom storage items at a cheaper rate, you can use the UK Bathroom Store discount codes.
   Repurpose the bar cart
Your favourite cart to store wine can be exceptionally repurposed as an efficient means of storage for your bathroom. It gives you space to keep spare toilet papers and towels. It also gives you a place to store your washcloths. The closet can be used to keep your daily essentials and the toiletries can left on the table top. The wheels at the bottom of the cart make it easy to move.
   A tiered organiser
The tiered organiser rotates helping you speed up your beauty routine. The storage being vertical maximises the counter space which would otherwise be limited. The space is perfect for all your makeup essentials. Apart from that it also keeps the rest of the area clean. You can place the sprays and the jars on the bottom while the brushes on top in the compartment.
   Tuck the towels in Baskets
If your bath lacks a linen closet making your bathroom look untidy and messed up then look no further. All you have to do is arrange small cute baskets and place them below your vanity. Roll the towels and put them in your baskets. This will keep your bathrooms tidy and will also give your towels a separate place.
   Keep your hair tools organised
Hair tools should always be kept inside a closet. You surely don't want to see the chords of your hair tools all around the bathroom. Thus, allot a place in your cupboard or dresser only for your hair equipment so that the space remains tidy and your devices have a definite place to be in. Do not keep your electronic equipment near water.
   Stack Shelves
Create storage where there is none by simply adding some height. All you need to do is place some bracketed shelves or baskets on the planks on your bathroom. This will help you store all the extras which you would not be able to store otherwise. The bracketed shelves are cheaply available and are also very easy to maintain. You can also use your creativity and make some DIY bracketed shelves for yourself.
   Install Magnetic Strips
Magnetic strips are a total rescue if you have a hard time finding your tweezers and bobby pins in a cluttered pile. Finding small things from clutter isn't an easy job. Hence, outwit your laziness and opt for a magnetic strip. It will catch all the tiny items and will save you from the struggle. Also, you'll save a lot of time.
   Double up on rods
Rods are a very underrated piece of furniture in your bathroom but can be used very efficiently if you want to. Instead of just cramming your body shower and conditioner on the edge of your tub hang a few S-shaped hooks on the rod and attach small caddies to them. You now have a place for your conditioners and shower gels.
   Store your cleaning supplies in your bathroom
Keep your cleaning supplies such as your bathroom cleaner, phenyl, mops and so on inside your bathroom so that you don't have to step outside to find them while cleaning your bathroom. Allot a shelf or a small cabinet to store your cleaning supplies. Keeping them in a convenient space will make you clean your bathroom more often making it look clearer than before.
   Bottle hangers
Stick on a small and cute spray bottle hanger which can hold you go-to cleaning spray with adhesive. You can also stick more than one bottle hanger if you need to.
   Inverted Brackets
Try inverted brackets to give a beautiful and contemporary look to your bathroom. They will hold all the loose items such as your pile of towels.
These were some very go-to tips to make your storage efficient and provide you with as much storage as possible even if you do not have spacious bathrooms.