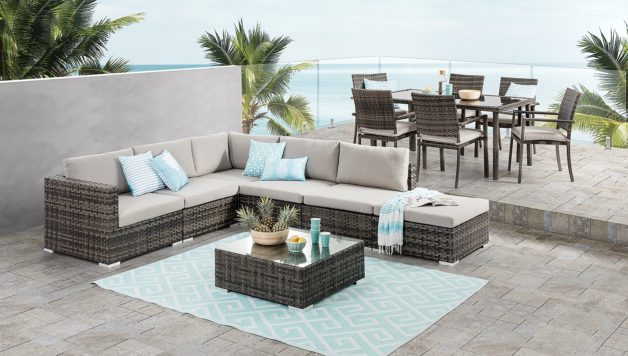 Mistakes to Avoid When Choosing Outdoor Furniture in Long Island
We can all agree that summer is the best season that will provide you an ability to enjoy outdoors, especially if you have a backyard that will give you peace of mind. 
On the other hand, when summer goes away, the times are for entering inside, which is a logical set of circumstances.
However, before you seal yourself inside waiting for the next Sun, you should consider finding Long Island outdoor furniture so that you can enjoy the following summer in your backyard.
It is much better to buy them outside the season because then you will find them more affordable and you can have more time in choosing the best ones. It does not matter if you wish to design a pool deck or create a screen porch; you should prepare yourself for the hassle of searching.
We decided to present to you the most common mistakes that homeowners make when it comes to buying outdoor furniture:
Always Bring A Tape Measure
It is essential to understand that one size will not fit all, which means that you should measure your available space before you make up your mind. 
Even though you think that you made an approximate measure by reviewing your deck and backyard, you should avoid the common mistake people make and see the exact measures of your garden.
Avoid remembering the dimensions, but write everything down, and you should also purchase painter's tape so that you can mark shapes on your patio so that you can see the size and design that you can implement.
That way, you will understand whether there is enough room for placing a dining table, or if you want to install French doors, you should check out whether swings could open correctly. 
It is challenging to handle the furniture in limited space, which is why you should measure individual pieces as well as the entire area because that will help you narrow your search down and avoid losing time looking for things that won't fit.
If you wish to learn how to use measuring tape, you should click here. 
Check The Quality and Materials
If you wish to create a perfect outdoor patio, you will quickly enter the point in buying trendy and vibrant furniture. However, it is essential to avoid aesthetical perspective at first and think about materials, construction as well as quality, and lastly think about its appearance.
You do not want to purchase something that will fall apart after a few uses, especially since numerous outside elements can affect the furniture you wish to place. 
Therefore, you should choose the materials that can easily withstand long hours of moisture and the ones that will not fade during the long sunny hours.
It is essential to conduct research and to ask for professional help during the shopping situation. Similarly, as we have mentioned above, you should take notes because buying outdoor furniture is not that simple, and you have to find the perfect choice that will stand the test of time.
For instance, coated aluminum and wrought iron can resist moisture, but other types of metal will not be able to withstand long hours of outdoor exposure. 
Before you make up your mind, it is essential to consider all characteristics that area in which you live in features such as climate as well as how different materials react to those conditions.
For example, living next to a sea is a dream come true and fantastic solution, but the salty air can cause severe issues to your outdoor furniture, especially for some types of metal. The same thing works for cold climates as well as areas surrounded by dripping trees.
It would be useless to purchase aluminum furniture in sunny areas because after long exposure; it will become too hot to sit on it. Check this link: https://en.wikipedia.org/wiki/Garden_furniture to learn more on outdoor furniture in general.
Sit On It Before You Choose
You should always try before you buy, and that is a rule you have to remember. Therefore, if you wish to get outdoor chairs, you should sit on them to see whether they feel like the way you want. 
Most homeowners tend to purchase things based on their appearance and bargain price, but comfort is the most crucial consideration.
It is useless to purchase lousy chairs just because it was cheap, so before you make up your mind, rest on the sofa or chairs, to see whether it will accommodate you or not.